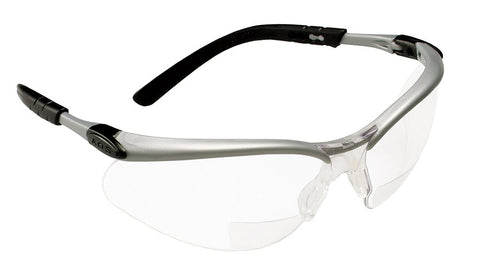 3M BX Reader 1.5 Clear Lens #11374 (#2006)
Product Description:
3M BX Reader, Silver/Black Frame, Clear Anti-Fog Lens with +1.5 Diopter #11374
Designed for workers who have difficulty reading small print or are engaged in small detail work. BX protective reader eyewear features magnifying diopters, lightweight lenses with adjustable soft tip temples and integrated sideshields.
Specifications Features +1.5 Diopter
Adjustable length temples
Adjustable nose bridge
Lens angle adjustment
Frame Color Silver and Black
Frame Style/Type Half-frame Lens
Coating Anti-Fog
Lens Color Clear
Mission Type Aircraft, Ships, Vehicles Operation Type Facility Safety, Maintenance, Repair & Operations, Overhaul Product Type Protective Eyewear, Safety Readers Protection Type Eyewear
Recommended Application Assembly, Cleaning, Demolition, Electrical, Facility Maintenance, Grinding, Machine Operations, Painting, Remediation, Sanding, Welding
Recommended Industry Automotive, Construction, Food & Beverage Manufacturing, Manufacturing, Metal Production & Fabrication, Military Maintenance, Repair and Operation (MRO), Mining, Oil & Gas, Pharmaceutical, Transportation
Size Standard Standards ANSI Z87.1-2003, CSA Z94.3-2007
Temple Color Silver and Black
CPP#2006
No Product Manual Available
Product Item Number:
# 11374
Product Manufacturer:
3M
Free Shipping on most orders over $200, discount applied automatically at checkout. *Some products not eligible.
---
We Also Recommend
---